It is with great pleasure to announce the launch of Return on Art, an online marketplace that facilitates the buying of artworks from young international artists with growth potential, to emerging classes of buyers. Derived from the term "Return on Assets" or "Return on Interest" Return on Art helps artists establish themselves, creating a stronger market for their work. The goal being to increase the value of their artwork thus serving as a Return on Art to collectors.

One year ago twenty-year-old Cass Business School London graduate Amir Akta founded Return on Art from his university hall's bedroom, without an education in art, only his passion for art and theoretical knowledge of innovation and entrepreneurship by way of his degree.

Amir was actively engaged in London's art scene but found no single website where he could deeper research contemporary artist or find one that made proper recommendations and propose artists with real potential.
He transferred all the skills and attributes gained from London and applied them to Vienna's start up scene in a drive to raise awareness and revenue for contemporary art which is limited and still underdeveloped in Austria. Historically the market has been heavily skewed towards the older generation, an inner elitist world where there are many barriers, leaving young, lesser connected collectors and artists, unsatisfied and intimidated. Return on Art is an easy, user friendly solution to buying art online.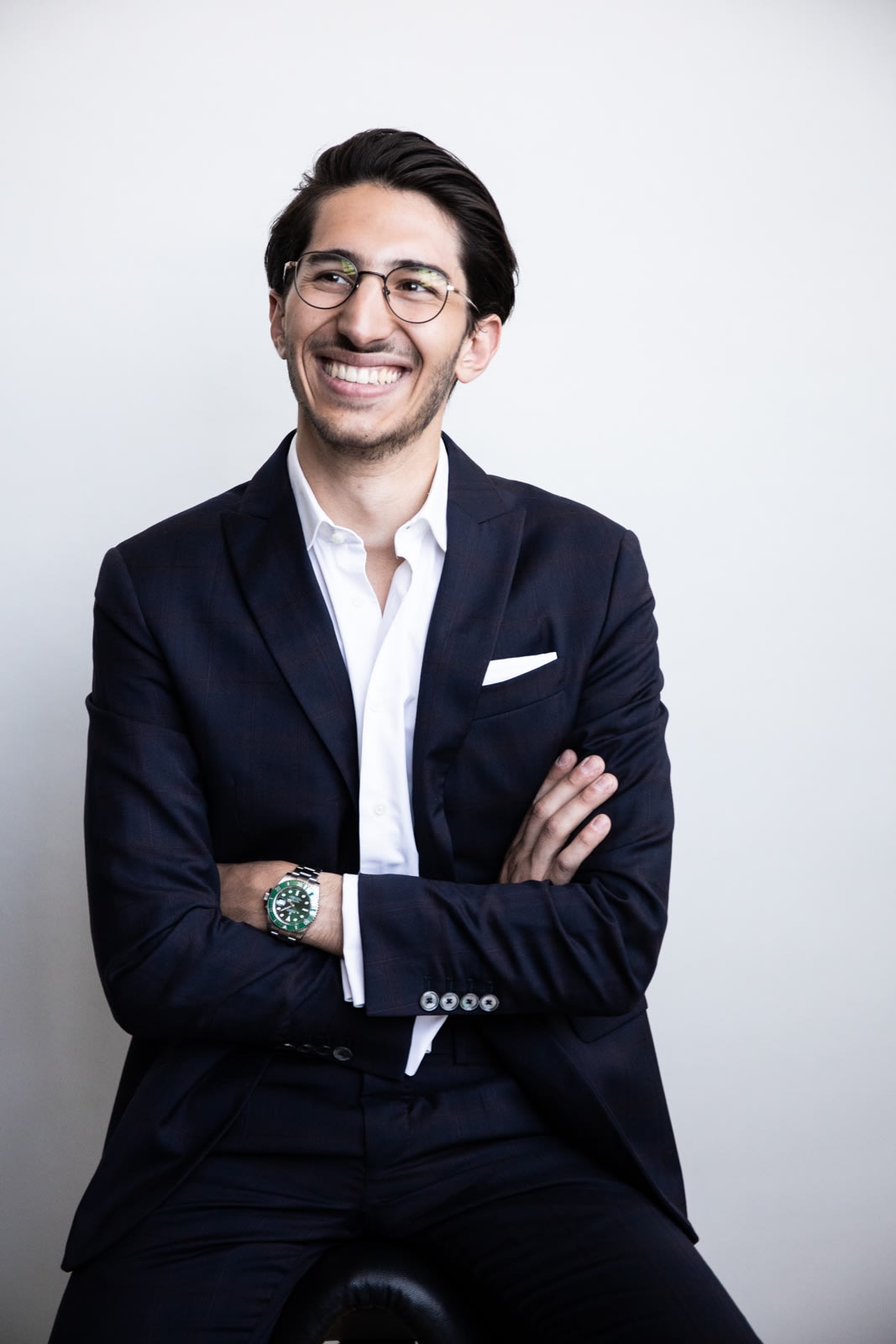 Amir's passion for entrepreneurship and art came into fruition at 17 years of age when he had contact with professional artist, Krayem Maria Awad. Amir was in awe of the creative atmosphere and spirit that surrounded Krayem Maria Awad but was saddened to hear how hard it was for him to sell his work.
Being a practise-oriented student still at school, he took on the task of promoting and selling art on his behalf, by way of Instagram, a platform Amir was commercially familiar with as he was running a successful travel blog at the time. After two years Amir had yet to achieve a sale for artist Krayem Maria Awad which was baffling. It was this feeling of disappointment and curiosity that initially led Amir to drum up a new approach to promoting and selling art online. And his passion for art, thanks to family influence, naturally steered him toward the idea of building something to serve art lovers like himself.

Since its inception in April 2018, Return on Art takes pride in the fact that over 50 young talented artists including Tishk Barzanji and Fabio La Fauci are submitting their works to Return on Art every week. Within the first 6 months of launching, Return on Art's artist portfolio had grown to 13 artists whose artworks are all under worldwide exclusivity. In a bid to welcome collectors and artists with all backgrounds prices range from €200 - €8,000.
Every artwork is original and comes with a Certificate of Authenticity. With the first purchase, new collectors receive a pair of Art Handling Gloves and Return on Art pins ensuring collectors are looked after every step of the way. At the end of each season collectors receive a retrospective book including all artworks featured, behind the scenes images from the artist`s studio in addition to personal notes.

There are platforms selling art online however Return on Art raises the bar and is breaking the curse that no one could convince the lesser known art world to go online. Return on Art is constantly looking for ways to push the boundaries and blur the lines between online and offline sales, only featureing artists who have been carefully vetted and analysed by experienced curators, ensuring Return on Art offers art that holds its value.

Return on Art works to support living artists and to do so receives the lowest commission in the industry. Online sales feature only 50 artworks per category, available for one month only, after which a new collection is made available. Artists benefit from Return On Art's personal network of collectors, galleries and marketing channels. Return On Art's goal is to cultivate the idea of investing in living artists among the younger generation and to allow everyone to participate.

Amir Akta, Founder Return on Art comments:
"Art is not about accompanying a luxurious lifestyle. It is about finding something you love and find aesthetically pleasing and to incorporate it into your own life. Our new app does just that – we're reducing fuss and uncertainty for consumers. The one function app follows our strategy and mission of bringing efficiency and simplicity to the art market. Augmented Reality is the first step in updating our technology to provide the best buying experience in the art market. The app is the perfect tool for design projects of all kinds, from commercial to hospitality, luxury residential and beyond – we have something for everyone".

Fabio la Fauci, Artist, comments:
"I had the pleasure of meeting Amir first through Instagram, then we met in real life and I was shocked by how a young guy like him could have this fire burning inside, this vision of building something new in this ever changing social environment. I've worked on two limited edition runs with Return on Art which are almost sold out. Return on Art have been an immense help to me. Game changers in the art and technology world".

Over production and mass consumerism is an ongoing issue - most of the things one possess are not of intrinsic value to us. But art tells a different story. Return on Art is making a positive impact on the environment and art community worldwide by supporting living artists who are here to tell and share their story and are passionate to include collectors in their story.
Click here to learn more about all our Artists, or the explore All Artworks